Private Label Thermabag
Due to our new manufacturing techniques we can now produce any size bag that will suit your needs with your own logo, imaging and an 8 colour flexo print which creates a crisp and vibrant image. The water-based coloured image is protected from any damage as it is printed on the inside of the polyethylene film.
Thermabag is made from a 100% recyclable materials and is 100% food safe. By ordering your own custom made THERMABAG the bag becomes a travelling billboard for your corporate message and image in addition to free product advertising. You can now order a minimum quantity of 5,000 instead of 25,000 and enjoy the best quality available and service with the most competitive prices on the market.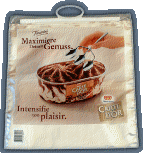 Our company is positioned and ready to meet your needs and the requirements of your customers. THERMABAG exclusive qualities will certainly give you some peace of mind when shopping:
Keeps ice cream from crystallizing.
Helps to keep meat and fish from spoiling.
Fruit and vegetables will retain their freshness.
Drinks will remain cold.
THERMABAG is perfect for shopping, picnics, camping, boating, taking to the beach and more.
THERMABAG is waterproof, re-usable, washable, and sturdy.
Please contact us today for a quote.
---