Our Products
In addition to our generic insulated bags, which are available in 3 sizes and are sold in Australia and New Zealand, THERMABAG can be produced in a range of sizes for a custom-designed private label bag. Our German manufacturing plant is fully automated and can produce any quantity required from as low as 5,000 bags within a short and specific time frame.
---
Small Thermabag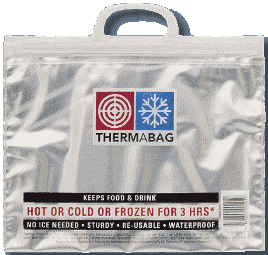 Small bags are terrific for many purposes: small quantity of shopping; school lunch or adults lunch; sports activities; and much more. Remember that the more you put inside the THERMABAG the longer it retains its temperature and freshness.
Size (cm): 30H x 40W x 16cm gusset
GS1-Bar Code: 9332602001019
Case Content: 100 THERMABAGS
Case Weight: 7kg
Bag Content: 7kg
Case Size (cm): 47L x 31W x 27H
Cases per Pallet: 24 cartons
Cases per Layer: 8 cartons
---
Medium Thermabag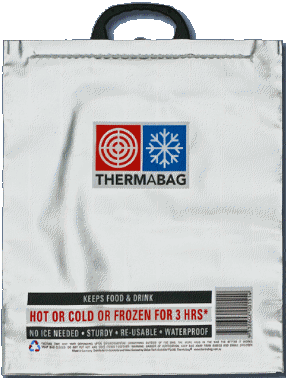 Medium bags also known as BYO, specifically designed to enable the customer to carry items of a nature where the product and the bag should preferably remain in an upright position and also for general purposes: take away hot food; BYO to a restaurant; fishing day.
Size (cm): 40H x 35W x 16cm gusset
GS1-Bar Code: 9332602001514
Case Content: 100 THERMABAGS
Case Weight: 8kg
Bag Content 8kg
Case Size (cm): 43L x 22W x 31H
Cases per Pallet: 32 cartons
Cases per Layer: 8 cartons
---
Large Thermabag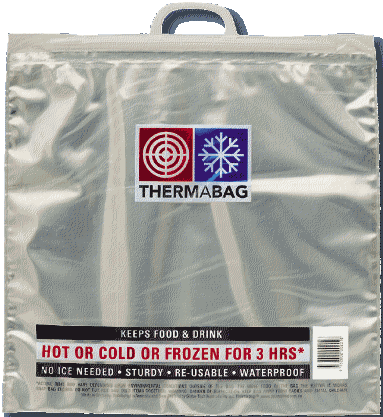 The large bag is the ideal thermal bag for shopping. When you go to the supermarket to make your purchases this is the one to carry. All our bags bear our trade mark and come fully guaranteed from any faulty finishes. You will enjoy the same quality with any size bag you purchase.
Size (cm): 52H x 50W x 16cm gusset
GS1-Bar Code: 9332602002016
Case Content: 100 THERMABAGS
Case Weight: 14kg
Bag Content 14kg
Case Size (cm): 52L x 26W x 32H
Cases per Pallet: 35 cartons
Cases per Layer: 7 cartons
---
Private Label Thermabag
Due to our new manufacturing techniques we can now produce any size bag that will suit your needs with your own logo, imaging and an 8 colour flexo print which creates a crisp and vibrant image. The water-based coloured image is protected from any damage as it is printed on the inside of the polyethylene film.
Thermabag is made from a 100% recyclable materials and is 100% food safe. By ordering your own custom made THERMABAG the bag becomes a travelling billboard for your corporate message and image in addition to free product advertising. You can now order a minimum quantity of 5,000 instead of 25,000 and enjoy the best quality available and service with the most competitive prices on the market.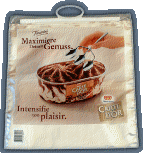 Our company is positioned and ready to meet your needs and the requirements of your customers. THERMABAG exclusive qualities will certainly give you some peace of mind when shopping:
Keeps ice cream from crystallizing.
Helps to keep meat and fish from spoiling.
Fruit and vegetables will retain their freshness.
Drinks will remain cold.
THERMABAG is perfect for shopping, picnics, camping, boating, taking to the beach and more.
THERMABAG is waterproof, re-usable, washable, and sturdy.
Please contact us today for a quote.
---
Poly Carrier Bags
Information soon to be released but in the meantime please feel free to contact us.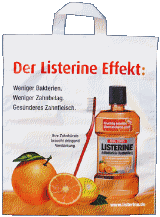 ---
Paper Bags
Please enquire about our big range of paper and eco friendly bags which are also available according to your company's requirements.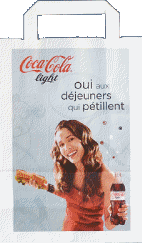 ---